Triple Toucan is a slot that I recommend that you avoid. The slot is fun enough, but it is developed by RTG. RTG develops good well-developed games, but they do not supervise how they are used by the casinos and they do not publish return to player. This has led the games from RTG to become popular in scam casinos. Please note that RTG themselves is a good company, and there are trustworthy casinos that feature their software. But the risk of getting scammed is higher in an RTG casino than it is in a NetEnt or Microgaming casino since these developers supervise to make sure that the casinos do not manipulate the games. With this said. Let's look at the game.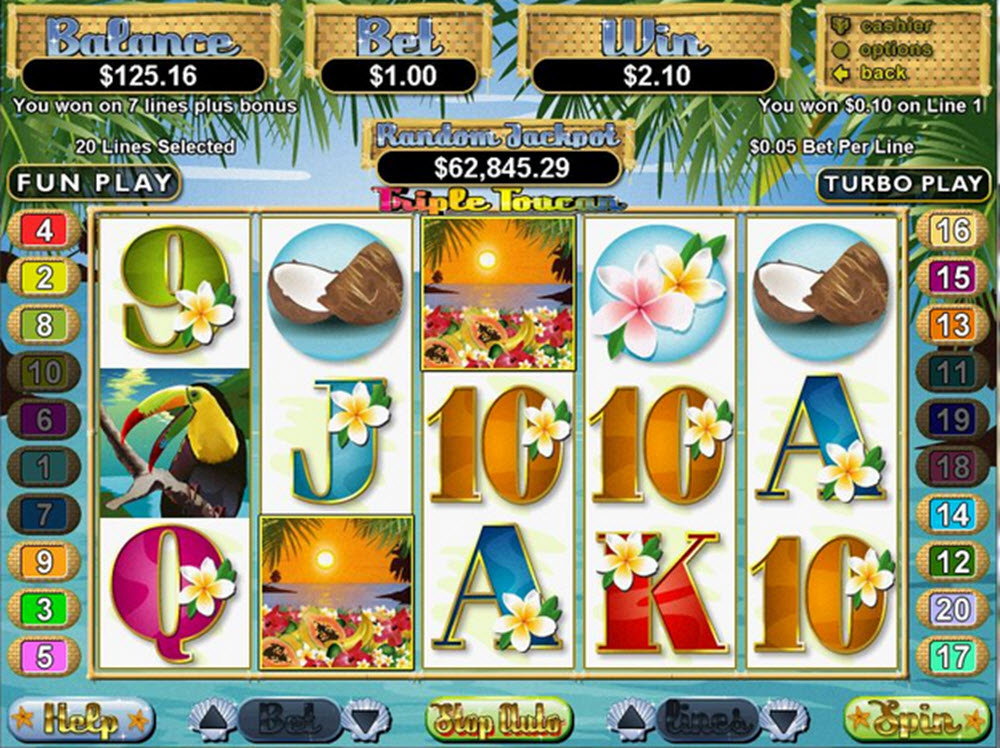 Triple Toucan is a simple but fun slot. It is a retro slot that lacks the features you would expect to find in a more modern video slot. The game is despite this rather fun to play, and I do recommend the game if you can find it in a casino that you trust.
Game info
Triple Toucan is a 5 reel slot. Each reel has 3 squares. There is a total of 20 paylines. There are 38 different winning combos. The slot is very colorful, and most of the tiles depict animals. Among the animals, you find the toco toucan, a red parrot, and a green frog. There are also the standard letter symbols that have gotten a flower added to them to make them more fun.
This slot allows you to win up to $45 000 on a single spin. Potentially more if you hit the progressive jackpot. It is a penny slot that you can pay for as little as 1 cent. 20 cents is the minimum if you want to play all 20 pay lines. You can choose to play with a higher coin value if you want to bet a higher amount.
I have not been able to find any reliable numbers on the RTP that this slot offer. It might be different in different casinos as RTG allow the casinos to maintain the games themselves.
Tripple toucan feature both wilds and a scatters.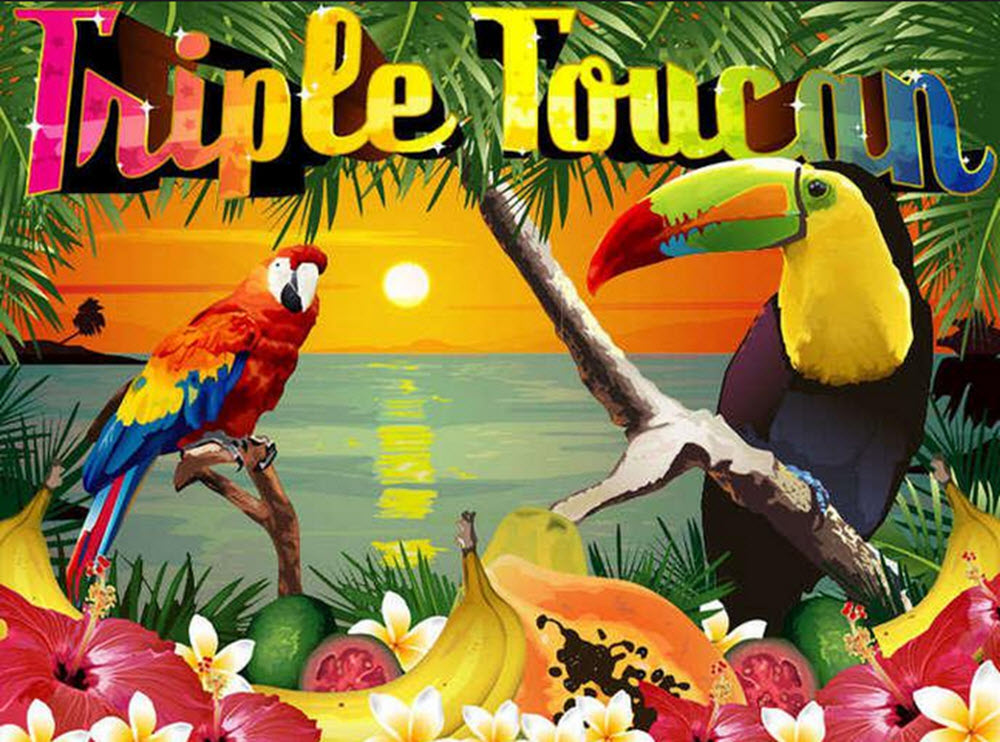 Wilds
The toucan is the wild symbol. The wild symbol can only appear on the first, third, and fifth real. Never on the second or fourth. The toucan can replace any other symbol except for the scatter to create winning combinations. Any combination that is created with the toucan as a part of it will allow you to win 3x what that combination would usually be worth. Having a wild as a part of your combination will, in other words, increase the value of the combinations. This is great since the toucan makes it a lot easier to create winning combinations.
Scatter
The scatter symbol is a fruit icon. You will get 25 free spins if you get 3 scatter symbols. Getting 3 or 4 scatter symbols will provide you with a multiplier. 4 scatters will give you x15 multiplier, 3 scatters give you x3.
Getting 5 scatters allows you to win up to USD30 000.
Bonus Game
There is no bonus game. You can sometimes find information that says that the game has a bonus game but those articles refer to free spins as a bonus game. I do not think a bonus game and free spins are the same thing. A bonus game is another game within the game that allow you to win extra money. Examples of bonus games include fortune wheels, pick and click games and so.
Jackpot
Tripple toucan has a progressive jackpot that can be won at any time. The progressive jackpot is usually rather small since this game isn't very popular. The largest regular win is $45 000.
Where to play
You can play triple toucan in many casinos that feature games from RTG. It is crucial to choose a casino that has been around for a long time and that has a good reputation if you want to play RTG games. Do not trust any individual reviews sites. Many of them lie. Instead, you should choose to read several review website and see what other gamblers have to say about the casino on different casino forums.
I would however recommend that you forget about this game completely and instead go to a top online casinos such as Leo Vegas, BGO casino or EuroCasino and choose to play one of the slots they offer. They offer a very large selection of slots and offer a large selection of slots that is better than triple toucan.